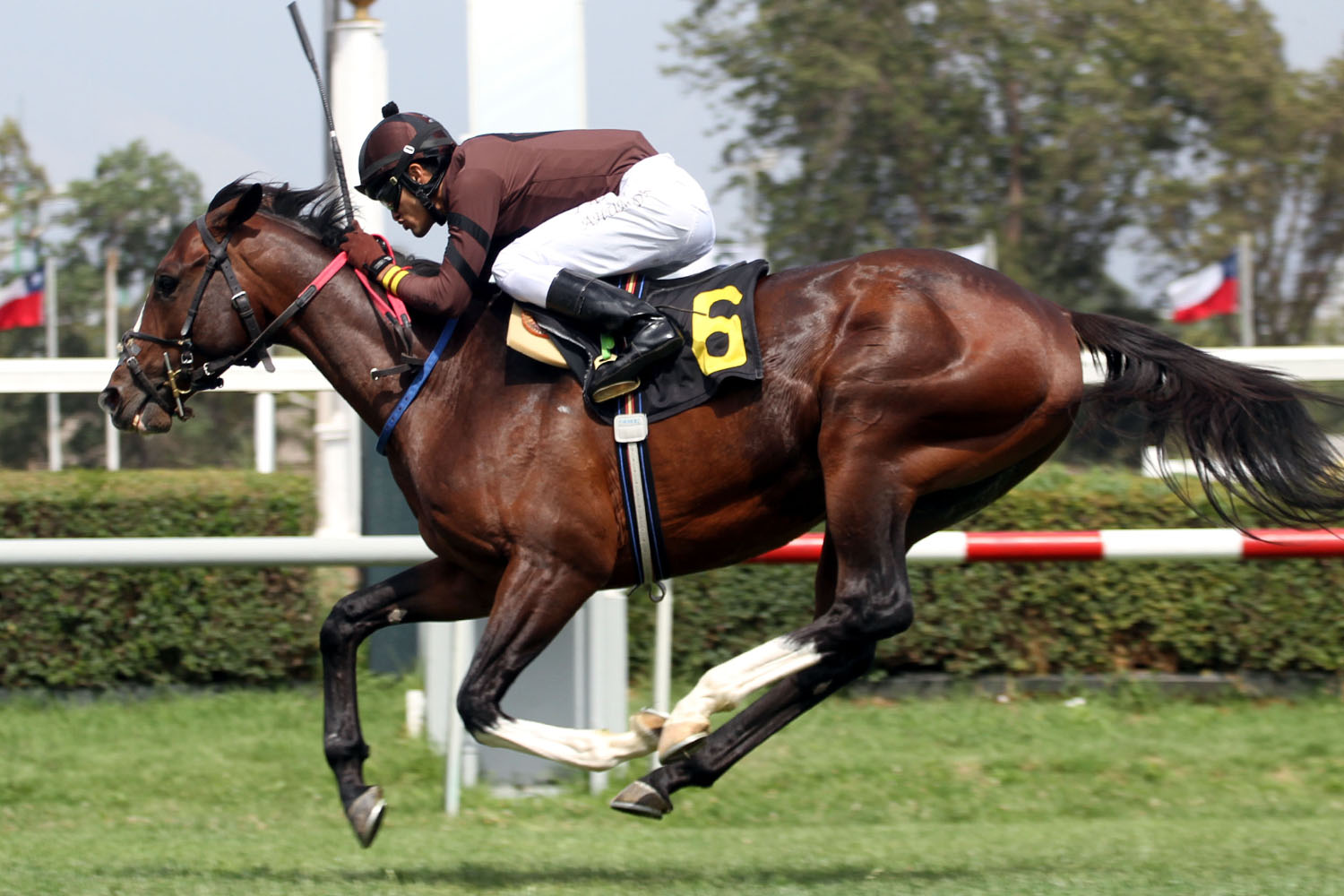 Es una realidad en la velocidad. Y es que el pensionista de Guillermo Aguirre ha demostrado gran capacidad para superarse hasta posicionarse como una de las cartas con mayor proyección del recinto en el vértigo. El hijo del linajudo Frankel (Galileo) que llegó a Chile por la gestión de su cuna de origen, el proyecto internacional del Haras Don Alberto, se ha transformado en la principal sorpresa de una categoría que desde hace un par de temporadas que no tiene un referente consular, como en su momento fue Clipperton (Seeking The Dia).
Con las riendas de Jeremy Laprida, el mulato se desempeñó en la quinta posición, mientras Sir Mistery (Sir Cat) comandaba las acciones desde la salida con la firme intención de unir extremos.
Sin embargo, pese al esfuerzo de su piloto Rodolfo Fuenzalida, el pensionista de Patricio Baeza no pudo prevalecer en el desenlace y fue absolutamente eclipsado por el desempeño sobresaliente que mostró Bronkel para superarlo con ventaja de un cuerpo 1/2 a su favor. Al Fayed (Soldier Of Fortune) y Crystal Rock (Rock of Gibraltar) terminaron relegados a la tercera y cuarta posición respectivamente.
1
.13.85 fue el crono que estableció Bronkel en la obtención de la octava victoria de su campaña, tercera de categoría clásica en 17 presentaciones, superando los 25 millones de pesos en premios y avizorando lo que puede ser un futuro esplendoroso en la velocidad aplicada de la grama metropolitana. El nieto de Oasis Dream (Green Desert) tiene la palabra.
Enero 7, 2019, Chile
Sebastián Bravo
6ª (68)

Clásico (Cl) PR
Pr. "Par De Ases"
Caballos 3 años y más (3a+)
1300m Pasto (Normal)
16:22 hrs.

CLP $3.900.000 al 1ro
CLP $975.000 al 2do
CLP $585.000 al 3ro
CLP $390.000 al 4to


Bolsa de Premios
CLP $5.850.000




Apuestas
Gan.a Seg.$200 Exa.$200 Qui.pla.$200 Qui.$200 Trif.$100 Cuat.
POZO GARANTIZADO TRIFECTA $2.000.000.-POZO GARANTIZADO POLLON DE ORO $10.000.000.-
1°Dob.De Mil,MegaTrp.N2E3/eng.Mp-6N°1E3,$200PollonDeOro
Resultado
L°
N°
Ejemplar (Padrillo)
E.
Dist.
Jinete
Preparador
Div.
1°
6
Bronkel

(Frankel)

4a
458k
59
J. Laprida
Guillermo Aguirre A.
1.4
2°
3
Sir Mistery

(Sir Cat)

5a
472k
1½
59
R. Fuenzalida
Patricio Baeza A.
4.5
3°
1
Al Fayed

(Soldier Of Fortune)

6a
450k
3¼
59
A. Rivera
José Alvarez D.
13.6
4°
5
Crystal Rock

(Rock of Gibraltar)

6a
520k
4
59
G. Ulloa
Jorge Inda M.
28.6
5°
7
Meg Meg

(Rock of Gibraltar)

5a
508k
4½
59
J. González
Patricio Baeza A.
7.2
6°
2
Guerrero Audaz

(Breathless Storm)

4a
466k
6
59
P. Robles
Sergio Inda M.
19.6
U°
4
Hayabusa

(Aragorn)

5a
456k
6¾
57
G. Pontigo
Eugenio Switt V.
20.1
Corrieron Todos
Tiempo: 01.13.85 1300m Pasto (Normal)
Dividendos
Ejemplar
Ganador
A Segundo
A Tercero
(6) Bronkel
1.40
1.10
(3) Sir Mistery
1.10
(1) Al Fayed
Dividendos
Ganador
1.40
Exacta
960
Quinela
640
Trifecta
2,820
Cuatrifecta
10,360
Doble de Mil
5,930
Favorito: (6)Bronkel

Mandiles: 6, 3, 1, 5, 7, 2, 4

Jinetes: (1°) Jeremy Laprida, (2°) Rodolfo Fuenzalida G., (3°) Anyelo Rivera L., (4°) Gonzalo Ulloa P., (5°) Jorge A. González M., (6°) Pedro Robles, (U°) Guillermo Pontigo S.

Preparadores: (1°) Guillermo Aguirre A., (2°) Patricio Baeza A., (3°) José Alvarez D., (4°) Jorge Inda M., (5°) Patricio Baeza A., (6°) Sergio Inda M., (U°) Eugenio Switt V.

Studs: (1°) Stud Doña Eliana, (2°) El Arcangel, (3°) Olimpique, (4°) Jorge Inda M., (5°) Tierra Nuestra, (6°) Los Pollitos, (U°) Katherine

Criadores: (1°) Don Alberto Corporation, (2°) Haras Villa Rosa, (3°) Haras Porta Pía, (4°) Haras Puerta de Hierro, (5°) Haras Don Alberto, (6°) Haras El Sheik, (U°) Haras Dadinco